The project team includes the USDOT Volpe Center and CLR Analytics Inc. The team installed the VSign system to nine sites from scratch, including loop sensors, pole, cabinets, solar panel, battery, and VSign hardware components. Seven out of the nine project sites need loops to be installed under the gravel pavement. The preformed direct-burial loops from BD Loops were selected for easy installation and longer lifespan. Among these nine sites, 3 of them are located at parking lots along the Keystone Drive, which is nearby the Kenai river where visitors come in the summer for fishing. Four sites along the Swan River road are located in a relatively closed system with major destinations covered by the VSign system for Origin and Destination (OD) studies. These destinations include campgrounds and an oil field. The other two sites are located at the entrance/exit of two major attractions.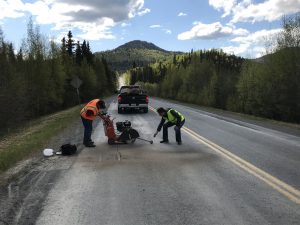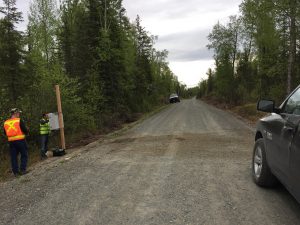 The data collected from the VSign systems were evaluated based on the following four applications:
Traffic count
Vehicle classification
Vehicle tracking
OD
It was found that
the system is able to accurately capture the traffic count data and visiting patterns at each site.
the system is able to provide reasonable classification performance, especially at the sites with asphalt pavement.
77 Bluetooth low energy (BLE) records were found but there were only 32 matched vehicles. The correct matching rate is only 42%, which means there is a serious over-matching issue and thus it is not accurate to use the BLE based tracking data for OD estimation.
The number of vehicles that can be tracked is 24 due to the bad quality of vehicle signature data from the loops installed under the gravel roads. 92% are correct matches.
The integration of both BLE and signature data will lead to a 46% accurate match of vehicle traveling in the field and thus can be used for OD data estimation. 
Sponsor: Federal Lands Highway (FLH) Coordinated Technology Implementation Program (CTIP)
Prime: USDOT Volpe Center
Project Time Period: Jan 2019 – October 2019
Backgrounds and Objectives: 
One major challenge facing Federal Land Management Agencies (FLMAs) is limited quantitative transportation data to understand how the Federally-owned transportation network is utilized by the traveling public. A patchwork of investment in older technologies, difficulty in installing and maintaining in‐road technologies as road rehabilitation projects occur, inconsistent interpretation of collected data, prior difficulty in introducing suitable technology into sometimes remote areas, and minimal collaboration across FLMAs are some identifiable reasons for the deficiencies in qualitative transportation data.
To address these issues, one FLMA, the Fish and Wildlife Service (FWS), would like to field test technology first tested by the Federal Highway Administration (FHWA). This project is being conducted as part of the Federal Lands Highway (FLH) Coordinated Technology Implementation Program (CTIP). Inductive Loop Signature Technology (ILST) uses road loops similar to those used to detect vehicles at traffic signals to anonymously identify vehicles. By installing several of these loops throughout a FLMA, this project aims to use this technology to understand the travel patterns of visitors inside the Kenai National Wildlife Refuge (KNWR).